Reading Time:
3
minutes
The Challenge: Addressing Shallow Communication in a Newly Re-Missioned Team
In 2019, I worked with a feature team that was about to re-mission, and that would receive expanded responsibilities. The re-missioning necessitated a wider range of skills which resulted in the addition of three new team members.
Initial Team Structure and Challenges
Prior to the re-missioning, the team consisted of seven members, an Engineering Manager (EM), and a Product Manager (PM). Despite having worked together for over a year, communication within the team remained somewhat superficial and some critical conversations were not taking place.
During one-on-one meetings between the EM and team members, topics surfaced that would have been more suitably discussed within the team setting or among peers. While there was a high level of trust between the EM and individual team members, this trust did not extend to the larger group setting. The team had also established team values, but these were not consistently reflected in day-to-day interactions.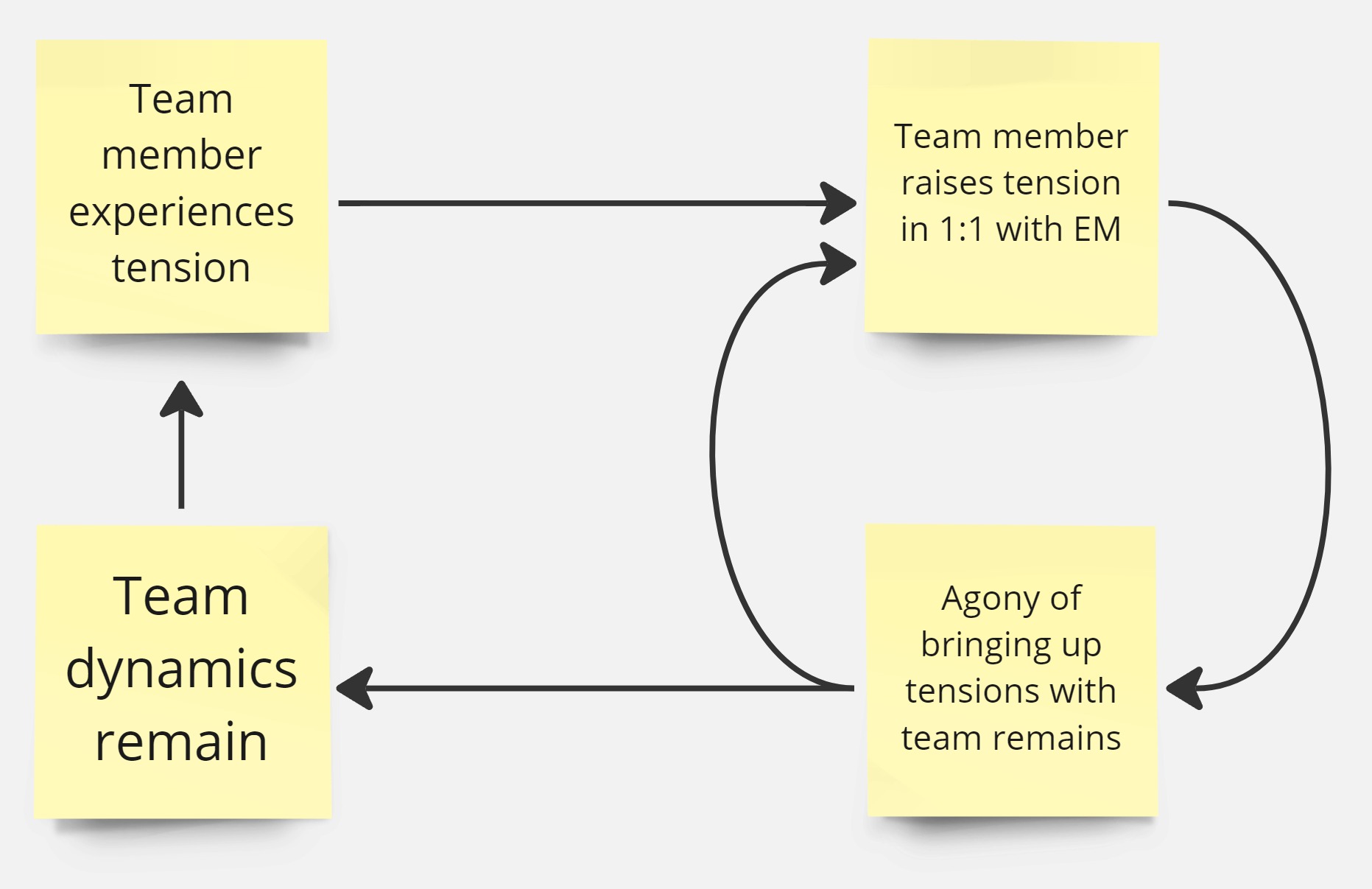 Casaul loop displaying the dynamic around dealing with tensions.
New Team Dynamics
With the addition of new members, the team grew to 10, not including the EM or PM. This expansion came along with broader responsibilities, as the team was now responsible for discovery work, internal collaborations in ever-changing constellations, and a less predictable day-to-day work environment.
The Experiment: Tailored Feedback Format and Peer Feedback Process
To initiate the new mission, the team participated in an off-site meeting where they explored their mission and outlined a quarterly roadmap. I facilitated a half-day feedback training session during which the team created their own feedback template and peer-feedback process.
This training helped the team understand different intentions behind giving feedback and how to respond to feedback effectively. Drawing inspiration from Avanza Bank's integration of peer feedback with company values, this team chose to align their feedback process with their team values:
Challenge the team
Drive change
Be kind
Make work more fun for the team
Put the teams needs first
Be open to trying new things
The outcome was a feedback template focused on performance improvement and value alignment. To streamline the feedback process, the team agreed to print these templates and hand them to recipients for future tracking of personal progress.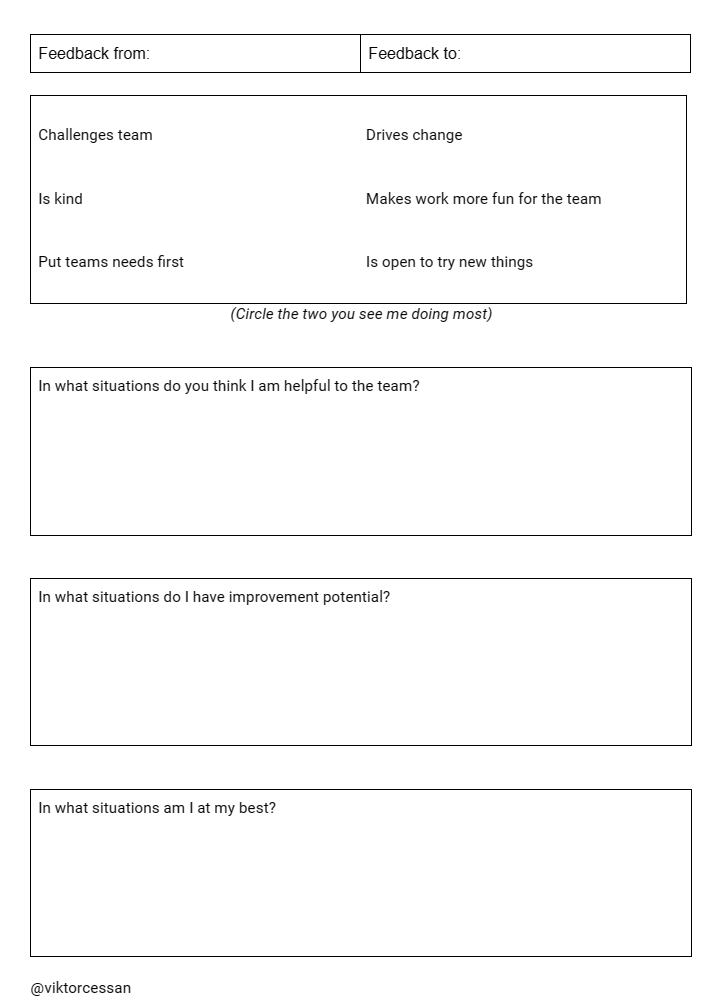 Feedback template. Was later polished into a very nicely looking template.
Peer Feedback Rotation Schedule
The team designed a rotational feedback system where each member provided feedback to another on a weekly basis, planning to assess the experiment after a few weeks.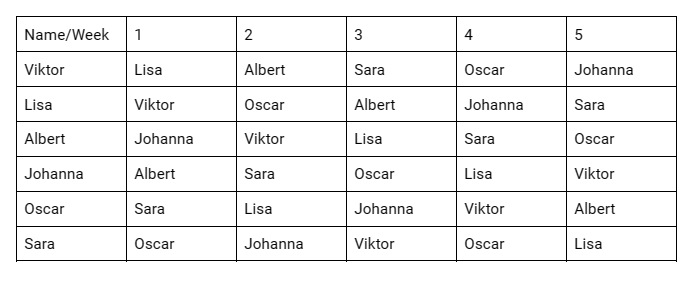 Fictitious example of peer feedback rotation
Findings and Impact
After only a few weeks, the team noticed improvements in relationships, and openness in conversations.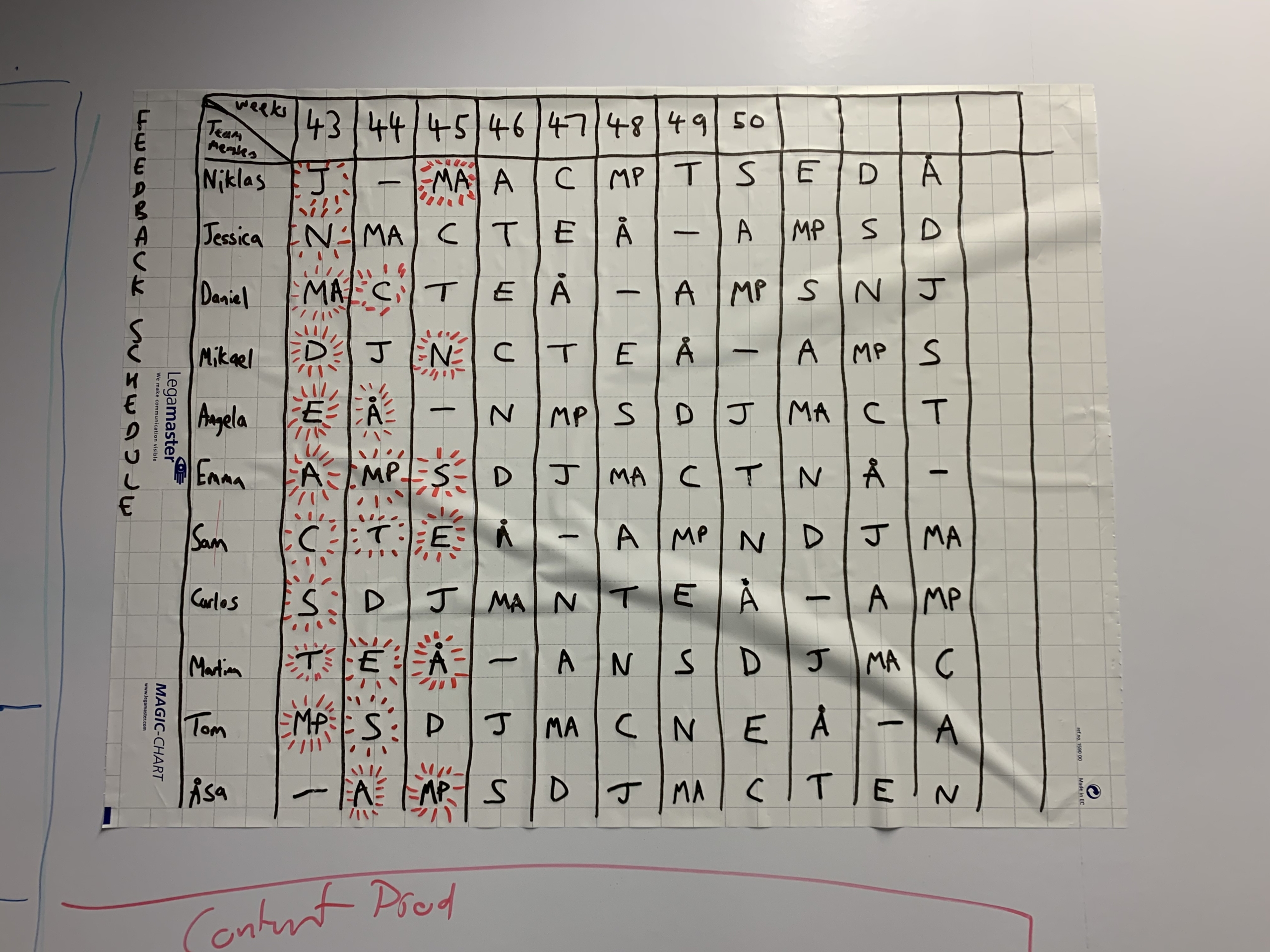 Picture showing the teams peer feedback schedule, and progress three weeks in.
After 10 weeks, the team experienced significant improvements in open communication and collaboration, both in larger and smaller group settings. Fewer issues escalated to the EM and PM, and the peer feedback process became a core part of their team manifesto.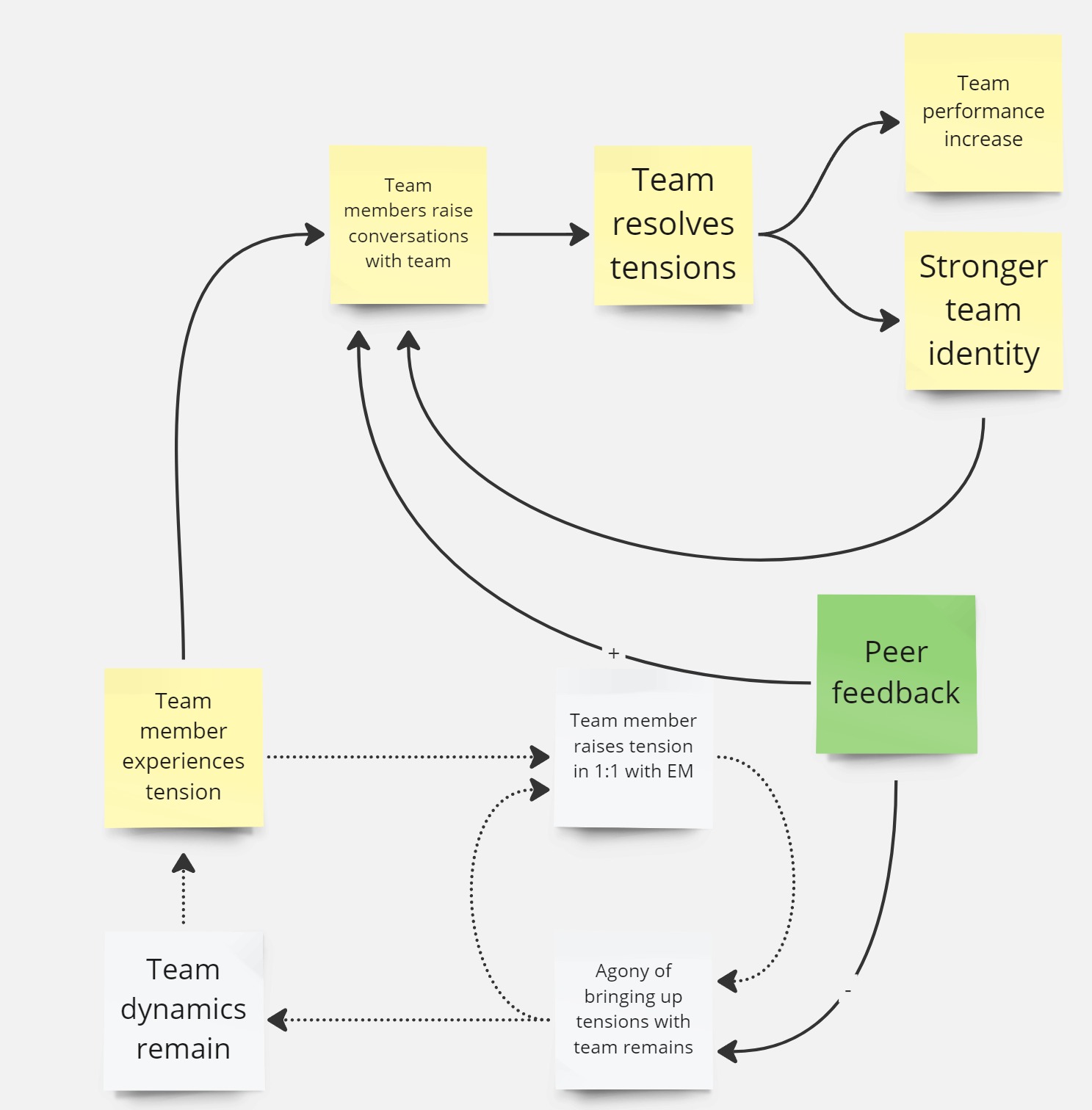 Casual loop diagram showing the new dynamic that emerged.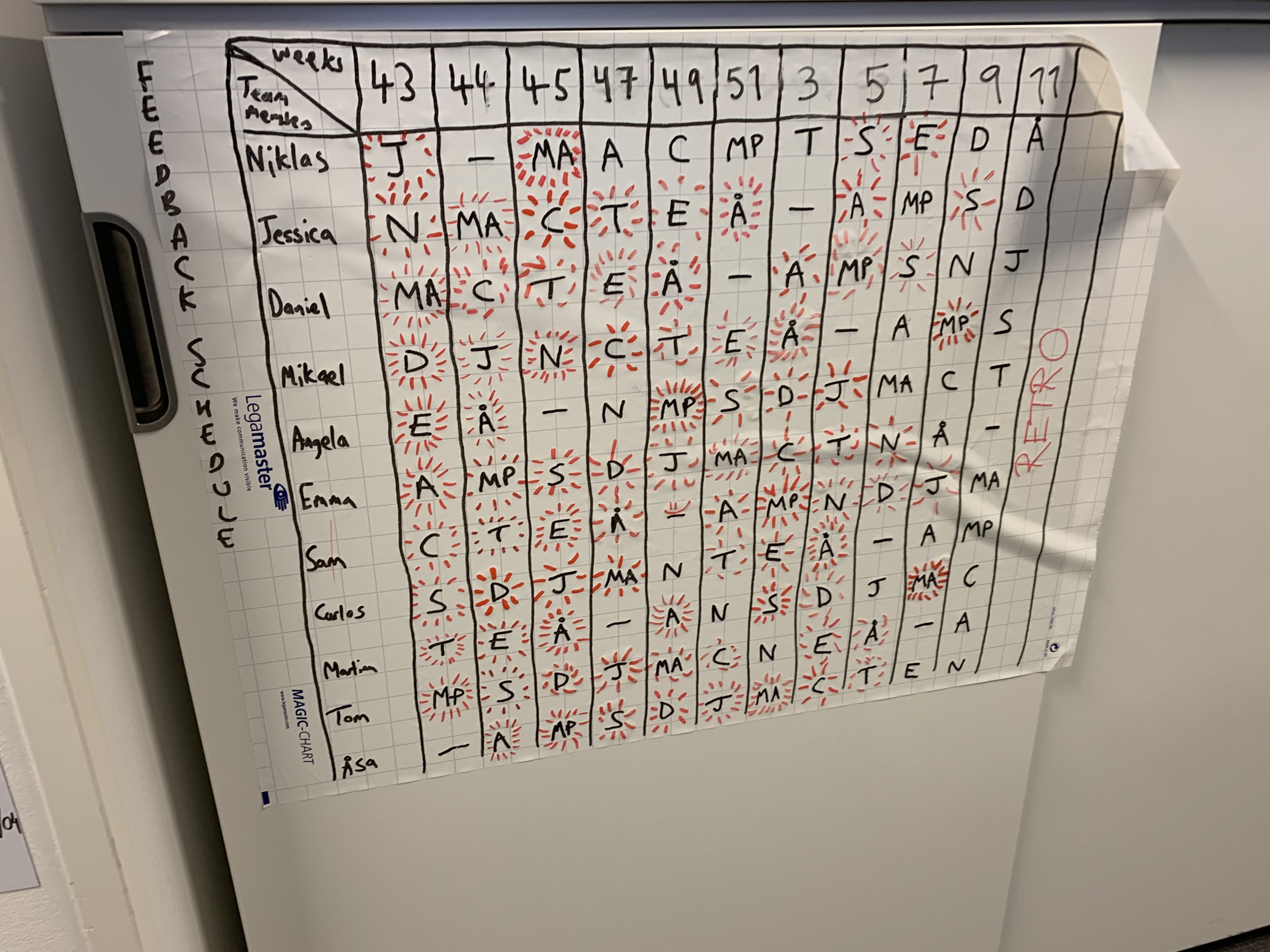 Peer feedback rotation schedule, and progress, 10 weeks in.
One year later, as the team underwent another re-missioning, and despite it being a challenge for the team, relationships, collaboration, and open communication endured. Furthermore, during this period, the team transitioned through two different Engineering Managers without much disruption, largely due to the strong relationships fostered within the team.
This case study serves as an example of how a well-implemented peer feedback process can substantially improve team dynamics and collaboration over the long term. It also shows how small investments into relationships over time have a cumulative effect.