In late 2014 Daisy Pilbrow and I sent out a survey to the agile community. The survey asked agile coaches what they wish they'd known before they started coaching, what was challenging about the role, and what they've learned about themselves and others. With the replies Daisy and I hoped to create a short and inspiring recommendation that we could give to interns and new coaches at Spotify.
The survey received 30 replies. We analysed the responses and were able to identify a few patterns that we'd like to share with you. You can find all the responses in their full format here, but we have removed peoples names to protect their integrity.
What role did you have before you became an agile coach?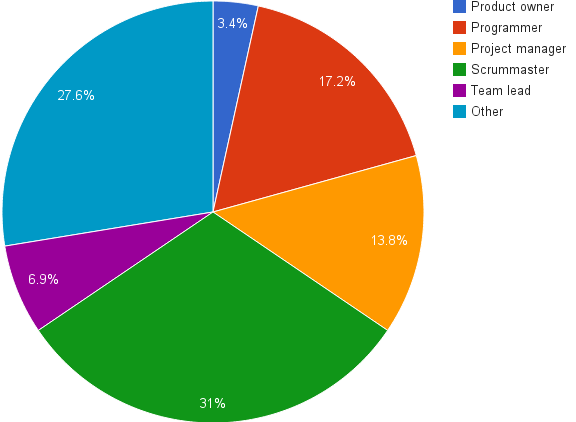 What makes a good agile coach?
A good coach is someone who:
leads by example
is patient
does no harm
assumes positive intent
is selfaware
is not afraid to fail
is resiliant
listens
cares about people
is curious
is humble
knows how and when to switch between roles
forgives
learns
is pragmatic
is knowledgeable about agile
What's difficult about being an agile coach?
It is hard to quantify what success looks like
You succeed when others succeed and don't get as much recognition
To constantly manage thyself
Knowing when to switch roles
Empowering others
Setting clear expectations
Leading by example
Assuming positive intent
The resistance you encounter (to agile, to change)
Asking openended questions
Learning from failure
Listening
Listening well
Building strong relationships
Recognising assumptions
Being pragmatic
The loneliness the role can have
Coaching teams
Staying humble
Giving feedback
Dealing with conflict
What advice do you have for new agile coaches?
Don't try to coach a team by yourself – form alliances with other leaders
Set really clear expectations with people
As a guideline – always assume positive intent
Focus on what's more important (don't try to do everything)
Don't always coach
Get to know the system you operate in before you try to change it
Learn how to listen well, fast
Learn how to ask powerful questions, fast
Learn your triggers
Become good at giving and receiving feedback
Start small
Absorb knowledge (books, studies, videos, etc)
Observe other coaches in action or pair with them
What book should I read if I become an agile coach?
Coaching Agile Teams by Lyssa Adkins (this book comes out on top with 17% of all the recommendations)
Self awareness
Leadership
Process and organisation
Other
We have left the survey open incase more people want to take it. We plan on revisiting the results later this year to see if we can identify other patterns, if we have received more responses.
Please reach out to me if you would like to discuss these conclusions, or if you have identified any other patterns that you believe we should include. I just can't get enough of analysing data. :)
Thanks for reading!