A common question that I receive from the agile community is "What does an agile coach at Spotify actually do?" and about 2 years ago Joakim Sundén answered this question in his blogpost The agile coach role at Spotify.
This blogpost is about my current focus and how it has evolved over the past months. While I won't go into specifics about the challenges we have had and still have, I will illustrate what reality can look like for an agile coach at Spotify.
Four months ago I left the IO-tribe (Infrastructure Operations) to join the six month old BITS-tribe (Business Information Technology Systems). I was the first agile coach to join (btw we're hiring) :) and the tribe was facing challenges in leadership, strategy, and delivery – In other words, nothing out of the ordinary. ;)
When I joined BITS (in the last week of October 2014) here's how my time was spent: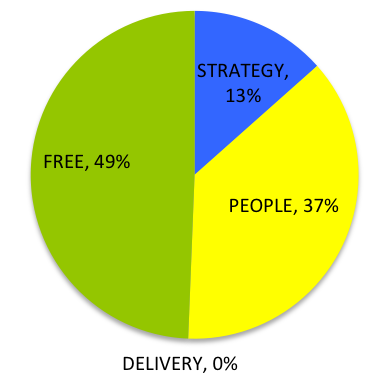 Strategy in this diagram refers to everything related to the continuous improvement of our systems (teams and org). Some examples are career paths, recruitment, that we should and how to visualise work, limiting WIP in the org, and improving lead teams decision making abilities.
People in this diagram refers to all activities related to getting to know people, building trust and rapport, and coaching and mentoring individuals.
Delivery in this diagram refers to everything related to a project and the daily business. Stand-ups, planning meetings, demos, estimations, backlog grooming, and stakeholder interviews are all examples of meetings that go under delivery.
5 weeks later my focus had shifted and I was spending most of my time on strategy. I was capturing information about our org and about how different teams interacted, and I was sharing this with the various lead teams. We had offsites about our purpose, agreed on goals, made decisions about how we work, talked about role expectations, and looked at how to visualise our work and more.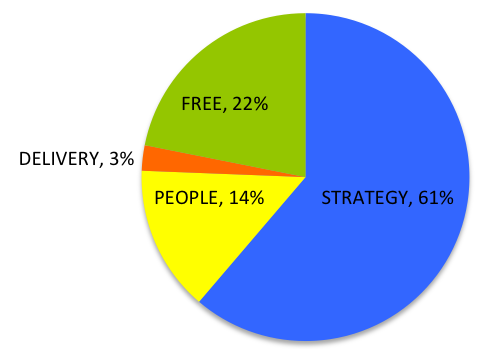 2 months later (last week) my focus has shifted again. Yikes! :) But at the moment my time is spent in a more balanced way.  I am more involved in delivery and less in strategy.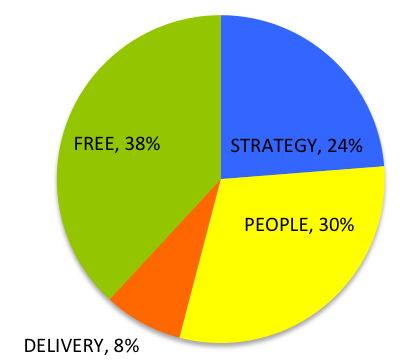 What agile coaches at Spotify do is very dependent on the context and the agile coach's strengths and aspirations. It is very hard to give one answer that holds true for everyone because it really depends so much on who you ask and what your context looks like. :) If I were to retake this exercise in 2 months I'm sure that my focus would be different again.
I would love to hear about Your past and current experiences. Feel free to reach out to me (drop me an email, tweet me, add a comment here).
Thanks for reading! :)